The BPH and its partners win the "France 2030 plan" call for projects
with the creation of a University Hospital Institute (UHI)
on vascular and cerebral health in Bordeaux
Retour

Mr Yann Bubien (CHU Bordeaux), Mrs Hélène Jacquet (INRIA), Mrs Stéphanie Debette (BPH), Mr Dean Lewis (bordeaux University), Mr Rodolphe Thiebault (BPH), Mr Rémi Slama (ITMO) – © Yann Bubien
The BPH and its partners win the "France 2030 plan" call
for projects with the creation of a University Hospital Institute (UHI)
on vascular and cerebral health in Bordeaux
This is a resounding success for the BPH and its partners!
The Vascular Brain Health Institute (VBHI) Bordeaux project has just won the call for UHI 3 projects of the "France 2030" plan. The announcement was made on Tuesday, May 14 from the Institut Curie by President Emmanuel Macron in the presence of Health Minister François Braun.
The Vascular Brain Health Institute (VBHI) is a joint-venture between the University of Bordeaux (UB), Bordeaux University Hospital Center (CHU), the national institutes for medical and digital science research (INSERM, INRIA), and the New Aquitaine Region.
The VBHI project mission is to prevent stroke and dementia, two leading causes of death and disability worldwide, by taking a precision population health approach and leading an emerging global dynamic geared towards both innovation and inclusion.
The Institute is designed from inception to be embedded within a global network encompassing its partners in the Global South, esp. in Africa, to maximize scientific progress and to benefit the most underserved populations worldwide.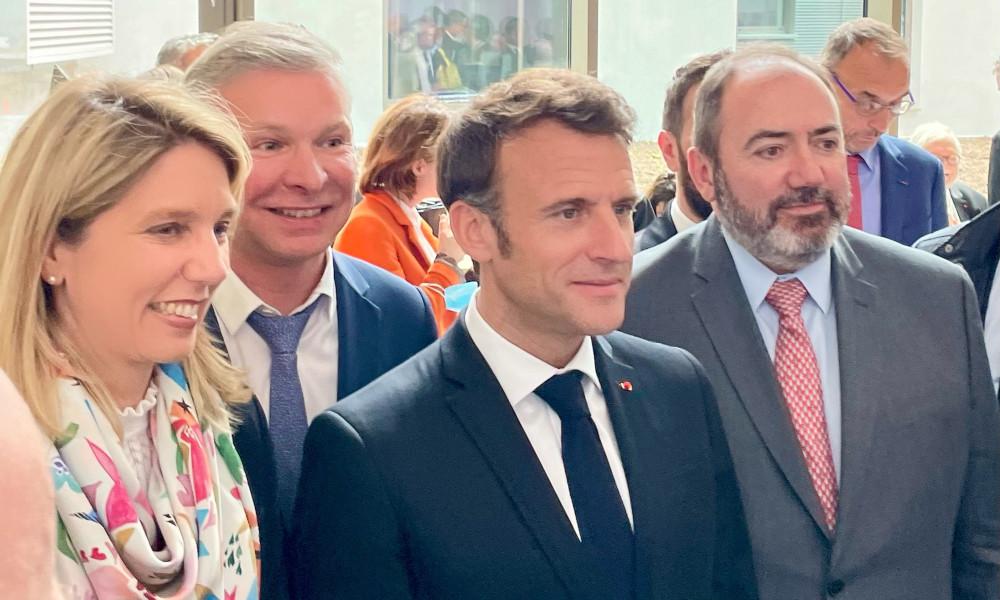 Mrs Stéphanie Debette (BPH), Mr Yann Bubien (CHU Bordeaux), President Emmanuel Macron, Mr François Braun (Minister of Health)
© Yann Bubien
"I believe that our project was approved because it focuses on vascular and cerebral diseases, one of the main sources of mortality and dependency in the world, but also because it develops a new paradigm integrating population health and therapeutic innovation to fight against the most common neurological diseases, strokes and dementia, as well as the promotion of brain aging well. This IHU is at the intersection of the different centers of excellence of the Bordeaux site: public health, neuroscience and cardiovascular health.",
says
Stephanie Debette
, Professor of Epidemiology and Neurologist at the University of Bordeaux and Bordeaux University Hospital, Director of the Bordeaux Population Health research center (Inserm / University of Bordeaux), and Principal investigator and anticipated inaugural director of the VBHI project.
Link to the VBHI project presentation website
https://vbhi-project.fr/
Vascular Brain Health Institute Founders